Pricing and Ordering Information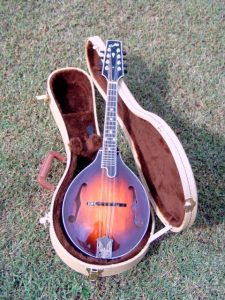 RA-5 "Master" Model
$4750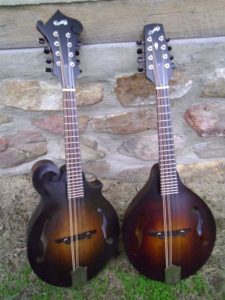 F-Style "Country Boy"
$3750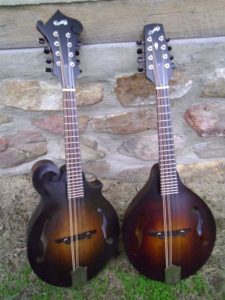 A-Style "Country Boy"
$3250
NOTES ON BUYING A RATLIFF MANDOLIN
Notes on buying a Ratliff Mandolin
First of all, thank you for your interest in Ratliff mandolins.
Any standard model can be purchased either directly from RATLIFF or through any of our dealers listed in the dealers directory under the "DEALERS" tab at the top of this page.
Only standard models are available from our dealers.    Custom options are only available on mandolins ordered directly from RATLIFF.
When to buy a Ratliff Mandolin
Any time you're ready.   Keep in mind, every RATLIFF mandolin is hand made, one at a time.   So…lead times will vary, depending on the backlog of orders.   Call or e-mail to get info on current lead times and find out how long it will take to get a mandolin built for you.
How to buy a Ratliff mandolin
When ordering a Ratliff mandolin directly from us we require a $500 deposit.  Upon receipt of the deposit we will return to you a copy of our "work order/receipt".  The "work order/receipt" will detail the mandolin to be built, including any custom features.  Also, it details the price of the mandolin and acknowledges the receipt of the deposit money and balance due on completion of the proposed mandolin.
One copy is mailed to you for your approval and we keep two copies….. one for our records and one copy physically is kept in the shop and attached to and stays with your mandolin through the entire construction process. 
Prices do not include shipping, insurance or custom add-ons.
Prices are held firm from the receipt of your deposit until delivery.
Shipping is via UPS, FedEx or, occasionally USPS.  
How it usually happens......……...
Usually it starts with a phone call.  Feel free to call me (Audey) any weekday during normal business hours.  The phone number listed on this web-site (423-357-4381) will get you directly through to me.  I'll be happy to discuss the details of the mandolin you want me to build and answer any questions not covered  here.     We can work out any business or artistic details.  
I'm one of those guys that likes to have good open lines of communications.  Feel free to call anytime during the construction of your mandolin.
And, of course, you're welcome to visit us here at Ratliff Mandolins
Ratliff Mandolins is located in the town of Church Hill in Northeast Tennessee.  Visitors are always welcome.   Call ahead and let us know when you'll be coming by.  We're about twenty minutes from Interstate 81 and easy to find.   If your trip causes you to be in the area on a weekend, call us anyway.  I live pretty close to the shop, so we might still be able work out a visit.   We might even play a tune or two!  
Ratliff mandolins are warranted for life to the original owner against defective materials and workmanship.   Normal wear to the instrument is not covered under this warranty.      All instruments returned for warranty repair must be shipped pre-paid and will be returned collect postage.
We accept cashier's checks, money orders,  personal and company checks in U.S. dollars.
A deposit of $500 USD is required to place your order.     The remainder is due when the instrument is complete and funds must clear before shipment.
You may call or write to determine the current waiting time for delivery, and/or any other information relative to ordering an instrument.